I recently became the owner of a Paderno Vegetable Spiral Slicer — or "spiralizer" for short. I've been wanting to eat healthier — more veggies, fewer processed carbs — but I didn't seem to be cut out for a life without pasta. Until now. The spiralizer turns any cylindrical veg (zucchini works best) into something that actually passes for spaghetti. The troops were skeptical. Was this just another attempt to force them to eat healthy (read: icky) food? But one meal and they're sold. Whether it's spaghetti or zucchetti, the flavor is mostly in the sauce anyway. It's the texture that counts. Zucchini pasta has al dente feel and tensile strength of traditional pasta — no problem twirling it on your fork. For 30 calories instead of 300.
And don't forget the energy and time savings of not having to boil water, cook and drain pasta.
Downside: This machine is not a finely-crafted work of art. It's lightweight plastic and feels a little flimsy. But we use it pretty much daily and it cleans up in a snap and is holding up fine so far.
Let me walk you through lunch. Here is a small zucchini locked and loaded.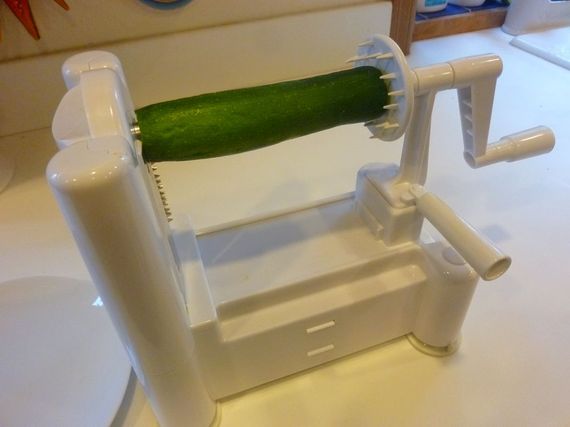 Here it is spiralized. There's a small core that doesn't get cut, but just chop that up and toss it in the sauce.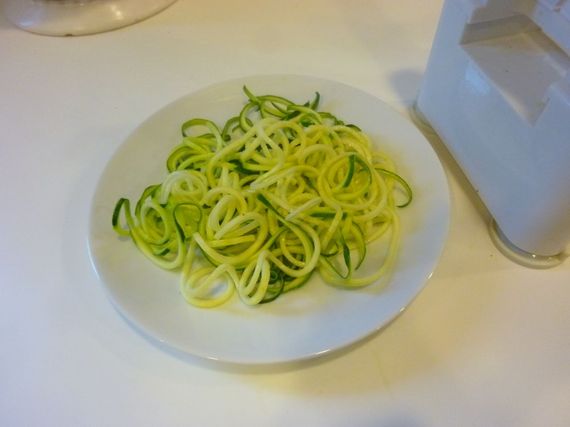 The strands can be seriously long. This one is just one inch short of 11 FEET long — from a six-inch zuke!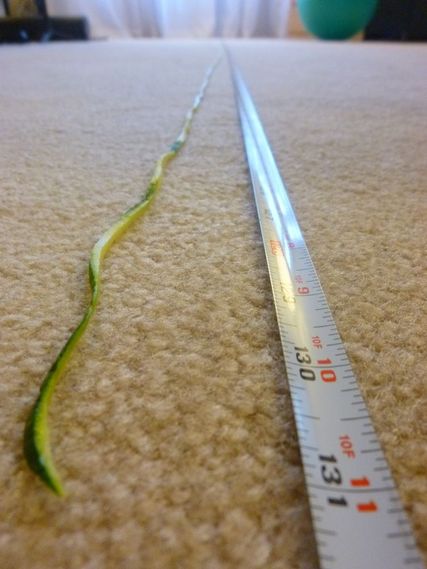 Zap it in the microwave for two minutes or toss it in the pan with your other ingredients for the last two minutes and it's ready to eat. Try…
Italian turkey sausage, mushrooms and onions and pesto
Stir fried shrimp with peppers, scallions, water chestnuts and hoisin sauce
Chicken with bean sprouts, snow peas and spicy peanut sauce
Phở with broth, beef slices, fresh herbs, lime and chilis
Here's today's lunch with turkey meatballs, fresh spinach and sun dried tomato alfredo sauce: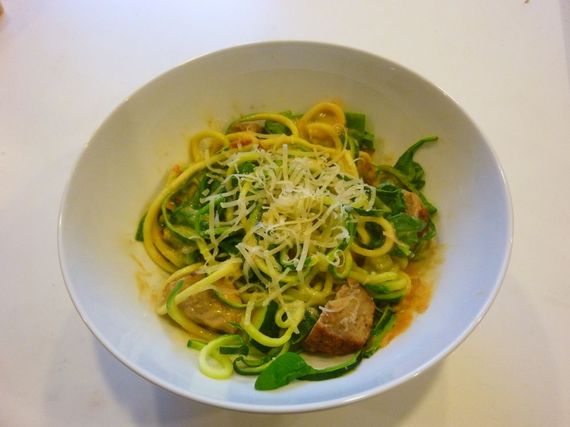 (Don't let the healthy eating patrol hear me say this, but the curly fries are great too!)