About Eva Moon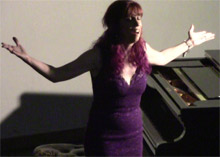 With an eclectic background as a vocalist and musician on both coasts and in Eastern Europe since the late 1970s, Eva Moon has been writing and performing her original music and theatrical works around the Pacific Northwest since 2002. Far from typical singer-songwriter fare, her compositions are ironic, energetic commentaries on modern life. Her original shows include 7 Deadly Sins and Me which recently closed a nine-month run in Seattle, My Perfect Life and Other Delusions, Eva Moon's Stimulus Package, The Deal With It Cabaret (all performed with her band, Eva Moon & the Lunatics) and The Mutant Diaries, her first entirely solo show. She has released five CDs and her work has appeared in the movie soundtracks of You May Not Kiss the Bride (directed by Rob Hedden, 2011) and Plunder (directed by Danny Schechter, 2009). Eva sings in fifteen different languages, including English.

In late 2011 she learned she carried the BRCA1 genetic mutation and underwent a full hysterectomy and double mastectomy to avoid almost certain odds of cancer - all while her mother was dying of BRCA1-related cancer. She returned - and turned her creative energies to a solo show to tell this very personal story in The Mutant Diaries: Unzipping My Genes.
She has just release a DVD of The Mutant Diaries and in early production stages of a new show, First You Jump, expected to be staged in early 2014.

• Artist Resume (PDF)
Artistic Statement - Eva Moon
First as a songwriter and later as a playwright and writer, I have always made wry observations about the ironies of modern life. Even in the simplest song or story I strive to shine a fresh light on the familiar and give the audience an altered perspective - one in which personal frustration becomes communal laughter and despair becomes hope.
Drawn to storytelling since childhood, I have consistently approached each new work as an opportunity to take the audience on a journey to someplace new, yet where they discover they're not alone. Whether it is a three-minute rap about email spam or a full length solo musical about turning a devastating medical prognosis into a new lease on life, my goal is to bear witness to those moments where we can reach our greatest potential. I know I have succeeded when all the elements work together seamlessly: The script is honest and conversational. Music is at once familiar and fresh. Lyrics are heightened natural speech. Themes emerge organically from prosaic detail, not from speeches. The audience responds, "Yes. I know that feeling. But I never thought of it that way before."
"The Mutant Diaries: Unzipping My Genes" extended my work in new directions. I had played daughter, mother, lover, wife, woman. Then I was unexpectedly given the role of fighter, battling through a full hysterectomy and double mastectomy to avoid near certain odds of cancer - all while my mother was dying of cancer herself. It was a pivot point which turned out to be a gift greater than I could have imagined.
"First You Jump" digs deeper into the underlying universal themes I faced through that experience: identity, vulnerability, trust, mortality and love. It's a darkly humorous collection of monologues set in quirky, off-center worlds which use magical realism to strip away preconceived conclusions. Each character faces her own limits in scenes that push beyond the edge of reality. I have always been fascinated by thresholds - those moments in time when the direction of a life pivots on the smallest of choices. I believe these moments are imbued with incredible power and potential and my job is to bring them to light. "First You Jump" is presented in solo scenes to mirror the internal isolation with which we ultimately face life's most consequential moments.
As an artist performing my own work, there is no greater satisfaction than knowing I've connected with a live audience. Art is a form of energy that must be both given and received to close the circuit and make the light go on.