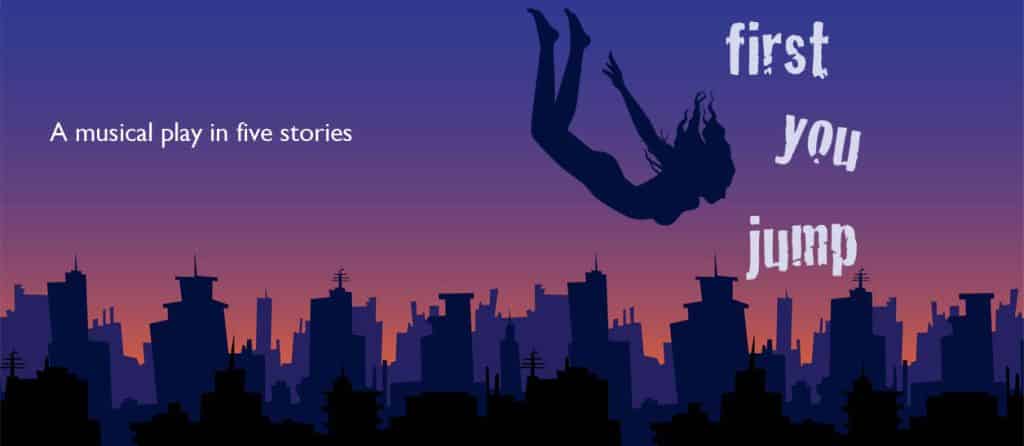 How do you take the terrifying leap into your own Unknown?
"First You Jump" is a surreal and darkly comic musical play. It consists of five separate solo stories in which five very different characters face extraordinary choices that will change their lives irrevocably. But, like all of us, each must commit to a decision without knowing if it's the right one.  All of the stories have elements of magical realism but the themes are very familiar. When does your private life stop being private? How far will you go for fame and success? What do you do when your past comes back to haunt you? Humor and pathos combine as each character wrestles with questions of identity, love, and ultimately acceptance.
Until you jump, you won't learn if you can fly.
First You Jump is an offbeat – and unusually flexible play. Each of the five acts is a solo play, separated and connected by an overarching theme and a narrator who sings the songs with piano accompaniment.It can be:
A full-length musical (approx. 90 minutes)
A five-scene one-act play without music (approx. 1 hour)
Five separate short plays (10-14 minutes each without music)
Five separate short musical pieces (13-18 minutes each)
A play or musical for up to six actors
A solo tour de force for a single actress
Staged with full sets or as simply a table and a chair.
The Plays
Performance History
June 1-4, 2017 Damage Control – Theatre Festival, Seattle, WA
July 15, 2017 – Damage Control – Poets in the Park Festival, Redmond, WA
Jan 16-25, 2015 – First You Jump Premiere – Valley Center Stage, North Bend, WA
Aug 28, 2014 – Damage Control – Snapshots 2014, 20% Theater Co, Chicago, IL
June 2, 2014 – First You Jump – Valley Center Stage, North Bend WA. Full stage reading with music
May 27, 2014 – Geppetto's Funeral -Blackshaw Theatre Co, London, UK
Reviews
Review: "First You Jump" provokes thought and conversation – "Moon's talent at creating these worlds by using magical realism helps us explore human truths. None of us will ever defend a T-Rex lover or struggle with the decision to stay human or become a puppet. But we all have times when we must make major decisions." – Read the full review by Sherry Grindeland on SnoValleyStar.com
Press: Five Magically Realized Stories About Taking the Leap in Life Take Wing at Valley Center Stage – "First You Jump is an inspiring, Northwest concoction of magical realism, a microbrew of finely hewed acting portraying a range of dramatic fantasy…" – Read the rest on Seattle24x7.com
"A new show unlike ANYTHING you've seen! How do you take that terrifying leap into your own Unknown? It's some of the most fascinating new writing I've seen. Eva Moon is a master of the technique of dramatic juxtaposition: Taking a fantastic situation and dropping a struggling human being right in the middle. The last time I felt this was working on Tom Stoppard's "The Real Thing." She has his wit, but with such a profound soul and heart." — Dennis Bateman
"How many of us have left behind dreams and self-power because we could not take that First Jump? "First You Jump" is a powerful theatre experience. This show brought me to new levels and more open perceptions on life, love and the world. They were eye opening and gave me a chance to unlock my perspectives. It was a complete turnaround of theater experience and I loved it to say the least! "First You Jump" is a show which I hope expands to more theatres across multiple states, countries, and languages. It was amazing!" — Audience comment
"Damage Control" Snapshots 2014, 20% Theater Co, Chicago, IL:
"From a pacing standpoint, it has the perfect blend and I love how fearless and extreme the ending is! I keep using the word 'extreme' because I love how ballsy and goofy and dramatic this is! There really is nothing tentative about any part of the play and I cannot wait for an audience to see it!" — Kallie Rolison, Director
"Geppetto's Funeral" Blackshaw Theatre Co, London, UK:
"We found our initial rehearsal really interesting and kept finding more and more layers of meaning in the script as we worked through. Your Pinocchio is certainly a very complete guy!" — Marcus Bazley, director
"Great piece, brilliantly performed. Lots of lovely language, crunchy ideas to think on, deep metaphysical themes, lots of layers. Excellent stuff!"
Comments from the first full staged reading, North Bend, WA:
"This is one of the most thoughtful, thought provoking and soul-satisfying plays I've ever seen. Eva's stories are almost lyrical in their telling: 5 vignettes that are at once fantastical and yet almost universal in their relating to the human condition. Between each vignette was one of Eva's musical numbers that set the tone for the next story. I am so looking forward to seeing a full production of this play later this year. Bravo!" — Bal Simon