How far would you go to save your life?
Superpowers stem from incredible sacrifices in The Mutant Diaries: Unzipping My Genes, a feisty and frank solo musical from performer/composer Eva Moon. Upon learning she had the BRCA genetic mutation, which spikes the risk of breast cancer to 87% and ovarian cancer to 55%, Moon had to make a life-altering choice: remove her healthy breasts and ovaries or face terrifying odds of cancer. Live music, warmth, and generous amounts of humor are all expertly woven in this story of her decision — and the extraordinarily empowering results of that choice.
Changing the future
The Mutant Diaries shares the silliness as well as the struggle of dealing with a life-changing personal challenge. The show delivers a positive, uplifting message about taking charge of life and health – and does it with laughter instead of lectures, music instead of moaning.
It's a lively, entertaining hour-long story told with humor and nine songs written and sung by Eva who accompanies herself on piano.
Eva has performed The Mutant Diaries in cities across the U.S. and abroad, including at the 2018 F.O.R.C.E. International Conference on HBOC (Hereditary Breast and Ovarian Cancer), the 2018 Annual Conference of the National Society of Genetic Counselors (NSGC), and for MacMillan Cancer Support in the U.K.
* The show is of particular interest to Jewish groups because while the BRCA genetic mutation affects 1 in 400 in the general population, among Eastern European Jews, it's 1 in 40!
---
Praise for Mutant Diaries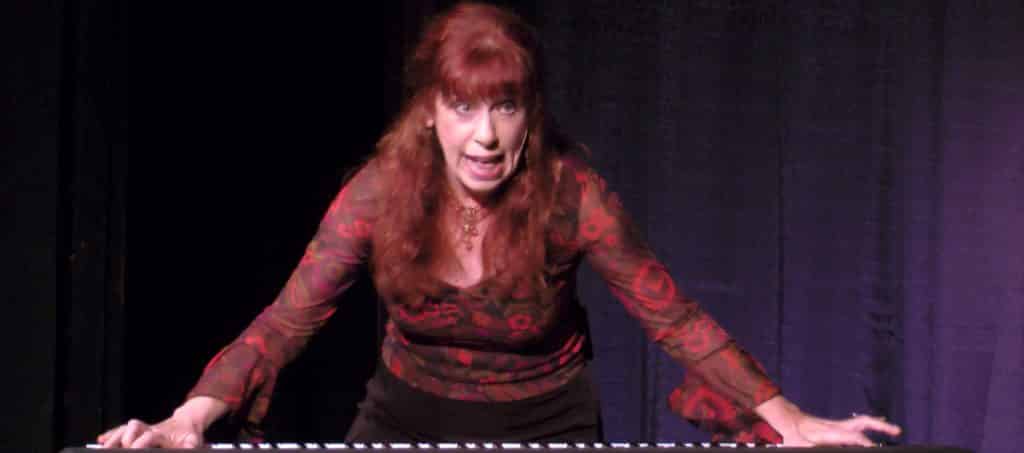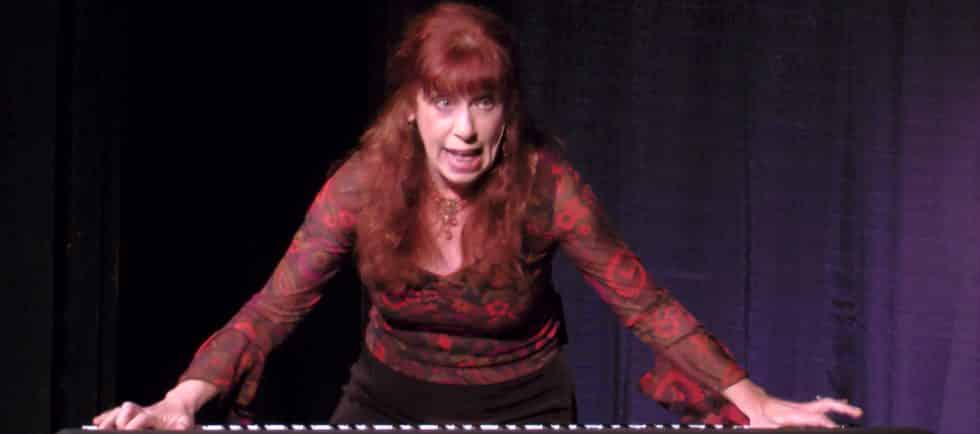 "Many thanks, Eva. I liked your show." – Dr. Mary-Claire King
Dr. King is the world-renowned geneticist who discovered the BRCA mutation and proved the connection between genetic mutations and disease. She is being portrayed by Helen Hunt in the new movie "Decoding Annie Parker."

"A one woman show delivered with so much raw emotion and intimacy that the audience may wonder whether they have accidentally wandered into a room where they overhear her private and innermost thoughts after learning of her BRCA gene mutation. Her journey carries us through the loss of her mother, to the discovery of her own personal superpower. Her presence on stage reflects the solace of the inner struggle, but the humor that she wraps around her musical delivery pulls the audience into her story as her life changing choices deliver triumph. It is about life, it is about death, and it is about the beauty of the human spirit, a must see." — Dr. Frank DellaCroce, co-Founder of the Center for Restorative Breast Surgery (CRBS) and the St. Charles Surgical Hospital
"I enjoyed it very much. I loved best the talking parts. You have a great spin on things. Also, I could not get past the tatas song. That was so clever and hilarious. I will remember to use you when we get media requests for patient stories on genetics and cancer prevention." — Elizabeth Swisher, Surgeon and Professor, Dept Ob/Gyn, University of Washington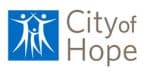 "Mutant Diaries" resonates among women with BRCA mutations. Moon's decision – and her show – call attention to a dilemma increasingly faced by women as genetic testing becomes more widespread. In simply calling attention to the choices that women must make – and empowering them in the process, Moon has achieved her goal. – City of Hope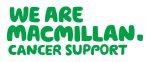 "Eva's show sent me on a roller coaster of emotions, from tears in the eyes to laughing my head off. It was humbling to be part of Eva's story and I felt like I was living through her journey with her. I can't thank you enough, Eva, for sharing your show with Macmillan. You are an inspiration." — Kate Macauley, Macmillan Cancer Support, UK
"No matter how many people are in the audience with you, you are left feeling like you have just had a chat with a friend and shared something quite personal." – London show review
"A Stunning Performance at VALA Art Center" Her story is bravely told by confronting the real, and often taboo issues of body image, sex, and shame that make us cry and laugh at the same time… taking us to a universal reality even if we have no relationship to cancer ourselves." – VALA Art Center review
"Brave and beautiful" The show carries a message to people that they can overcome these challenges." – SnoValley Star Newspaper review
Front Page Profile: "Redmond's Eva Moon turns to music to face cancer risk" – Read the full profile in The Redmond Reporter >
"An uplifting, uproarious musical "self-exam" about Jilting Breast Cancer and Living to Sing Out About It" Read the full review at Seattle24x7.com >
What London audiences said about The Mutant Diaries
"My heart is full with emotion and my face hurts from laughing. Tonight's performance was absolutely incredible and I feel honored to have been present!" — SP
"It's *amazing* – Funny, poignant, just salacious enough to make you simultaneously squirm and cheer her on. See it while you have a chance!." — WNK
"Thank you for taking us along on the journey. All my life I've been afraid of breast cancer. Somehow, this made those fears a little less scary." — C
"A lovely show! Well done on a subject few would be able to discuss with such candor, warmth and humor!" — JQ
"I laughed. I cried. I learned something important. Thank you for being so generous with your message of hope, for explaining the journey to choose life." — RB
"A story EVERYONE should hear." — JM
"A great show, small but perfectly formed. Funny and sad in perfect balance, it made me laugh and cry, sometimes both at once! A must-see for people facing tough medical decisons – and their loved ones. If you only see one show this year about massive invasive surgery to avoid cancer, make it this one! Eva is a one-woman force of nature full of wisdom and musical comedy and she'll leave you feeling optimistic whatever you face." — JR
"Eva Moon's 'Mutant Diaries' is touching and funny — a great combination. It's a story of triumph, told through the words and music of a genuine and generous spirit. Learning life's important lessons isn't usually this entertaining!" — JH
"Beautifully written, Eva's words – spoken or sung – sparkle with humor, compassion and raw emotion. Her performance is energetic and heartfelt. She squeezed my heart with her powerful story of facing a challenge and landing solidly on her feet." — WB
"Bravo! Thank you for sharing your experience in such a musical, lyrical, laughing, sensitive, spiritual and brave way." — MH
"Eva Moon's 'Mutant Diaries' is powerful and poignant. I love it when a show makes me laugh and cry in one sitting, and I did both at Eva's show. Her words are impressive; her delivery inspirational. This brave, unflinching presentation of Eva's journey entertains as it elucidates. Quite a feat." — CM
"As a medical professional, I loved how this show took an abstract clinical diagnosis, and made it human; using pithy anecdotes, soulful tunes and hilarious lyrics to weave a personal and painful story with an uplifting ending." — KR
"Eva's lighthearted songs and commentary on dealing with losing the genealogical lottery are both heartfelt and fun, but more than anything, very inspirational!" — SH
"I enjoyed "Mutant Diaries." It's a clever, moving and ENTERTAINING show. It touched my heart and I also laughed my butt off (don't worry, it grew back overnight). Eva is a very talented writer and performer." — KRZ
---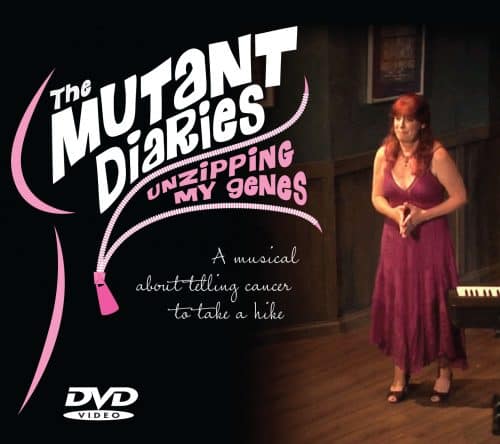 On DVD or Streaming Video
The Mutant Diaries: Unzipping My Genes – a musical about telling cancer to take a hike – was filmed live on stage at Rogue Machine Theatre in Los Angeles. I have decided to make the DVD available free while they last. $6 will cover postage and handling in the US. If you're outside the US, contact me to calculate shipping. Contact me for your FREE copy of the DVD.
Watch now on Amazon Streaming Video >>
A special note for Medical professionals
The Mutant Diaries is a great resource to offer patients dealing with cancer, genetic mutations, mastectomy, or other life-changing medical challenges. It presents a hopeful message with humor but also with respect for the seriousness of their experiences. For medical staff, it provides an important view into patient perspective and has been well received by nurses, genetic counselors and doctors who often only see a small slice of the patient's full journey.
Consider referring your patients to this site or carrying a few copies to offer directly in your office, hospital or clinic gift shop, library or website.